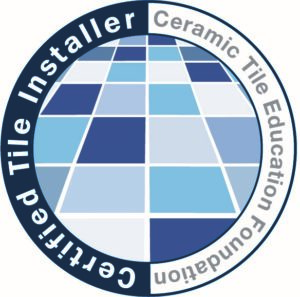 Dragonfly guarantees the highest standards of quality craftsmanship.  Attention to detail is unsurpassed.
Experience and credentials are important for a quality installation that will last a lifetime. Lee Callewaert has over 40 years of experience dedicated to the craft. He is a Certified Tile Installer by the Certified Tile Education Foundation and the first ever recipient of the "Tile Setter Craftsperson of the Year" award by the National Tile Contractor's Association (NTCA).  His commitment to this trade is evidenced in his knowledge and continuing education regarding standards, methods and materials appropriate for all tile and stone applications and his efforts in apprenticeship training.  As many of the old world craftsmen retire, it is more difficult to find those "masters".  We think it is our responsibility to launch the craft forward into future generations.
Appropriate installation methods often require a broader depth of construction knowledge and an understanding of the interrelationship with other aspects of the project.  Our technical advice from the very early planning phases of a project is valued by homeowners, architects, designers, and other trades.
We are a member of the National Tile Contractors Association, and serve on the Board of Directors and the Technical Committee where we contribute to the progress of our industry, and most importantly, excellence in tile installations for the consumer. Please visit the National Tile Contractors Association "Consumer Resources" for more information:
https://www.tile-assn.com/page/trade-professionals-consumers